What is the best content for a social media marketing campaign? This is the question that I've been asked to respond to at the recent Social Media Economy Days event in Munich, Germany. I was scheduled as speaker on day 1 but unfortunately I missed my flight and it was difficult for the organizers to arrange a change in the agenda – so I ended up not giving the presentation, after working hard on it. But – since it is now ready, let's share it! Here is my Social Media Economy Days presentation for everybody to enjoy!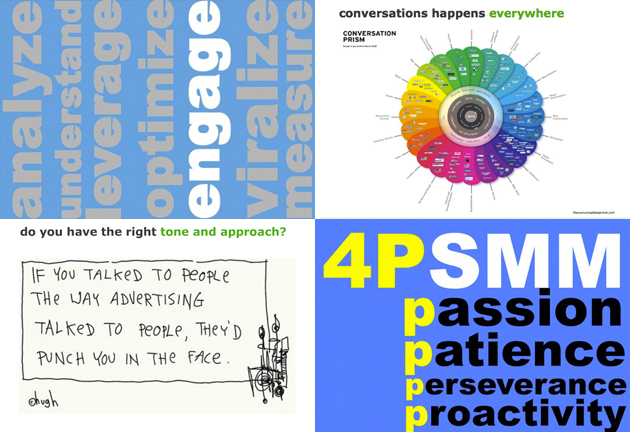 As part of a content strategy panel, I find myself in a situation where I had to "question the question". As you can see from my presentation below, I started asking "Best content for what? For which channel? For which brand voice? For which target audience? And most of all, for which goal? So I needed to step back to "secure" a few pillars of social media marketing, classic intro to many of my presentations and, more in details, for the training sessions I teach: basics of social media such as social media targeting, social media strategies, social media performance by channel, social media resources. And closed the parenthesis with the now classic 4Ps of social media marketing (passion, patience, perseverance, proactivity), and the 4Ps Don't of social media marketing (presume, panic, push, procrastinate).
When I started talking about content strategies, I had to "secure" another few pillars, starting with the teachings of the Cluetrain Manifesto, that more than years ago pointed out that markets (and brands) are conversations, and relationships too. Social media engagement is about talking to people with a human tone, being truly interested to their topics and being helpful in the conversations. Social media conversations must make sense, and be engaging. I also introduced another book who strongly influenced me on the understanding of social media engagement: UNmarketing, and it's now classic payoff "stop marketing, start engaging". Highly suggested reading.
Next step of the presentation was showing the audience how the Web has changed: web 1.0 was mostly about content, with the support of design. But in the web 2.0 social web, while the content still is important, the design has kind of lost importance in favor of the interaction. So the best approach to social media content is to be prepared for the right conversations having the right tone of voice and approach, beside of targeting the right people or groups (e-fluencers). I closed this session pointing out that successful content (specially the one that goes viral) generally falls within one or more of the 3Es: content must be educational and/or entertaining and/or enlightening. I like to add another 2 Es: engaging and ethic – and these two are not optionals. And I concluded this step of the presentation with an example of declination of social media strategies, where the content was not even "content", but the goal of a brand to offer a smile to its customers. Who's the visionary brand? KLM, check out the video here below.
Back to content strategies, I continued the presentation reporting the findings of a number of articles on the topic. A recent article published by Mashable suggests that there are five important keys in content strategies:
Know your voice – Every thing you say on the social web should "sound" like your brand.
Know your audience – Why do they follow/like you? It's because your brand offers them something. Make sure you deliver.
Time your content – Create an editorial plan and make sure what you say and when is relevant to your target audience's needs.
Solve problems – Help your audience, make sure you have the right information to share. Build trust, strengthen relationships.
Be true – Your audiences will sniff it out if you are pretending. But if you are fun, honest and relevant, they're going to recommend you to their friends. Isn't that what social media is all about?
I also reported some findings from my good friend and social media expert Lee Odden, who recently published on ClickZ an article on content marketing, suggesting that there are four main effectively engaging content types: infographics, contests, videos and articles. Lee analyzes the topic giving good tips, such as those like adopting series of content releases instead of one-shot content, always be coherent with messaging, make sure content is also in tune with your conversion funnel and, most important, ask questions, seek feedback, promote UGC and use all social media channels to vehiculate your content.
I also shared more insight from other articles published by Social Media Examiner on the topic of content curation, a content strategy that can be beneficial in terms of gaining industry authority, as well as SEO relevancy – provided that content gets "curated" by an editorial team, rather than simply aggregated by unmonitored RSS feeds. Social Media Examiner suggests in various articles to adopt a publishing platform for content curation such as Scoop.it, Paper.li, Storify.com, Blip.Tv, Flipboard (for iPad) or iTunes (for podcasting) and to adopt a strategy of content curation that includes your proprietary content, best if 50/50 with other people's relevant content.
I closed the presentation with a focus on the skills that an editorial team should have (copywriting, marketing, basic tech and plenty of curiosity), but also making the audience aware of "the dark side of content strategies" that includes many tricks and trap-holes to be aware of in the fields of digital rights and copyright, privacy and the need for a social media policy, and the blurred line between ethics and spam in social media networks and on the internet in general.
If you enjoyed this presentation, fell free to leave a comment to this blog post or on Slideshare, where you can find many other social media marketing presentations at my profile www.slideshare.com/massimoburgio.