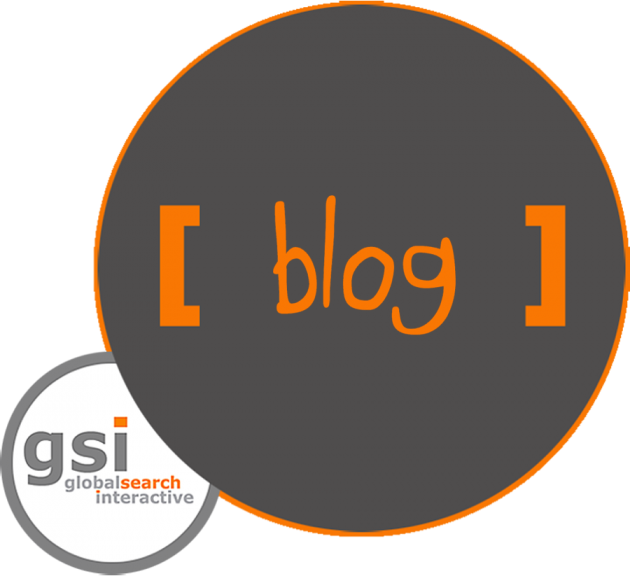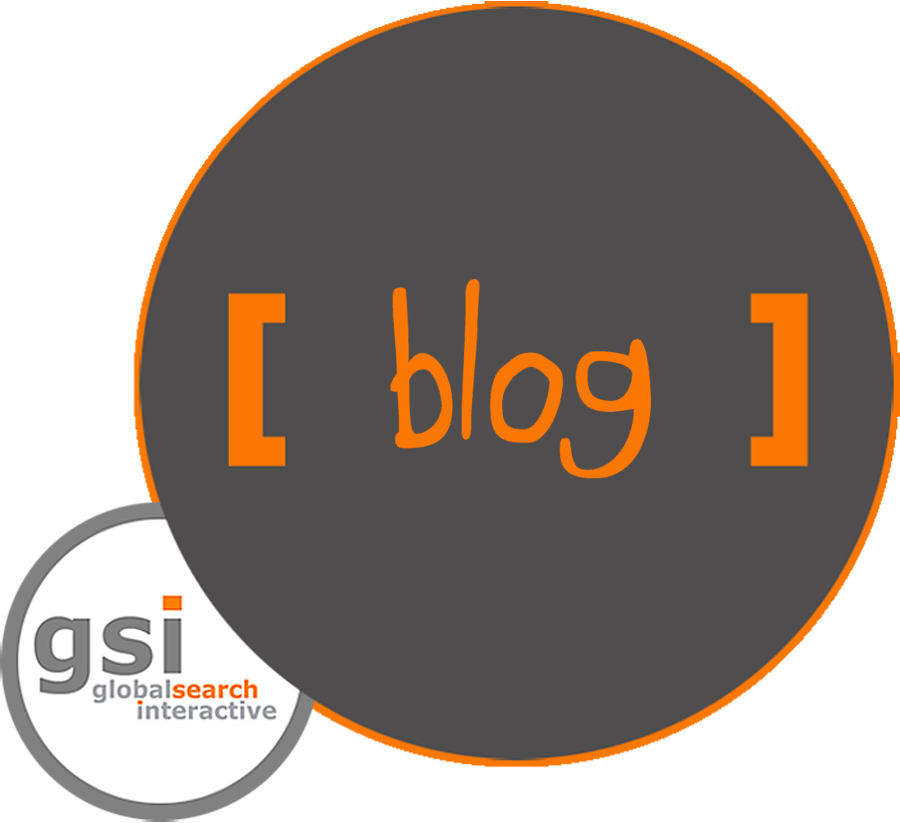 A Basic Decalogue for Social Media Marketing Strategy + Operations
by Massimo Burgio, July 2012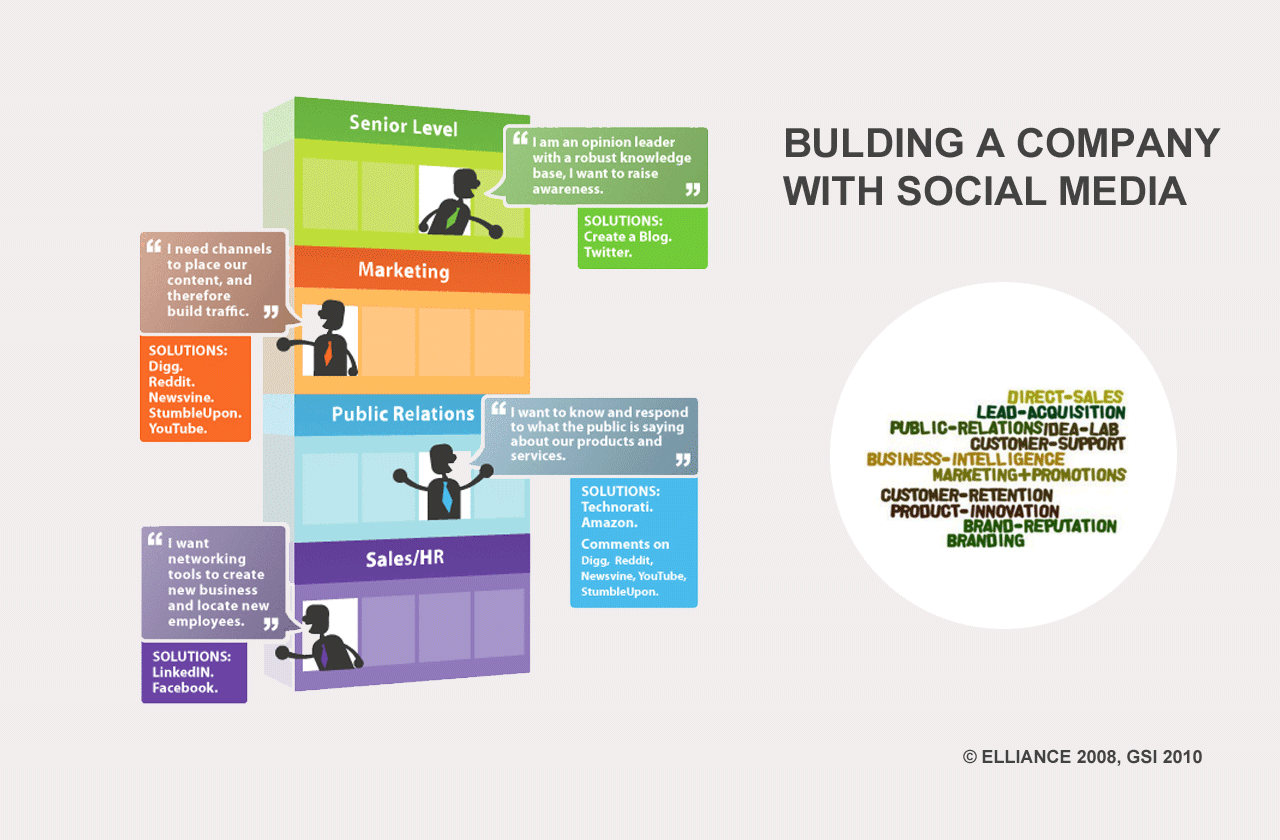 A couple of weeks ago I replied to an email request of a friend who asked me, for a presentation to its client, if I was able to help him out with a brief check-list for social media operations. Not so difficult, since I always tend to create such lists for my clients. Lists – or decalogues – are easier to remember, if built in a progressive sequence of logical points. Of course designing, planning and managing a social media marketing campaign is not as easy as counting to 10, as each of the points in the decalogue include plenty of sub-activities and campaign modules, and plenty of commitment.
Like Spinal Tap, my Social Media Marketing Decalogue has 11 points instead of 10. This is because there must be some sort of "ground zero" from where taking the first step, and we are talking of course about definition of social media marketing goals! But let's see all the steps of the process one by one!
0 – Define business goals for online and social channels
As I always recall in my social media marketing presentations, the definition of business goals (and not just of channel goals), is the very first step of the process. The image in this page shows some of the most common business goals companies should be pursuing online and on social channels.
1 – Define competitors, benchmarks, social media strategy, target audience and, most of all, e-fluencers
Before "jumping on Facebook", benchmark the best practices of your industry, and run an online competitor analysis. Make sure to engage where your target audience is. Define your audience and investigate its online social behavior. Most important, figure out who are your e-fluencers, as you will need their help. This is where your social media strategy starts shaping up.
2 – Select and optimize all strategic social channels
Once your preliminary analysis is complete, take possession of your social media spaces. The Conversation Prism designed by Brian Solis and J3ss3 (see image in this page) shows you how online conversation are fragmented, with clusters of your target audience everywhere, not just on Facebook. Choose which channels are the most appropriate for your social media efforts, those where your target audience is more active.
Optimization and customization are the key- You will need to create customized social media profiles with full descriptions, links, pictures, videos, customized maps, interactive tabs, custom apps, vanity URLs and all that's needed for building a performing and relevant social media presence. [Note: Brian Solis and J3ss3 studied more "evolutions" of the Conversation Prism, releasing in 2013 its latest 4.0 version – see image in this page]
3 – Allocate resources (people, time, content, budget) and include strategic communication in your social plan
A company, specially if big, cannot face the volume of time-material work needed in social media marketing to monitor, engage, produce content and run all day by day operations. Employees are there to do other business, and cannot be "re-routed" into a several-hours-per day daily commitment additional job. A dedicated team is needed and, in some cases, also the support of a professional social media marketing agency, as this is not the job for one or two geeky people at the Marketing or IT department.
The entire company doesn't have to be involved in the social media plan, but make sure that all your key messaging find their respective, optimized social media output. It's a long work that could require a redefinition of the internal communication processes, but that can be optimized with some new guidelines and procedures, and of course good training.
4 – Roll out a social media policy for employees, and training sessions for your social media marketing team
Training is key for your social media team, but also top management and A-level executives should participate to the process (starting with the definition of goals), as well as any other employee. A social media policy can help set things straight, but the social media policy alone it's no use if its introduction is not supported by social media marketing training sessions to management, marketing team, internet and social media marketing teams, PR, communication and IT teams – and, whenever possible, extended to all employees. As a matter of fact, good social media policies should be shared also with clients, business partners and suppliers – the entire "business ecosystem" of your company's communication.
5 – Define editorial and engagement plans, and be creative with your content strategy

Once your social media marketing profiles are ready to go, the next step is start listening to the online buzz every day, which is more important than publishing your own content.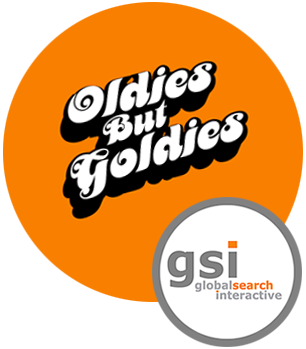 This section of the site used to be active as a blog, but we stopped blogging at the beginning of 2013. This article is a couple of years old, but we think that its insight still provides value, so we included it in our new site as an "online marketing resource". A sort of oldies but goldies.
We apologize if some references are not very updated. We "remastered" the blog posts to fit the new GSI site design, and included some updates when republished the content, but we also decided to leave the blog posts mainly untouched, as they represent a sort of "family photo album" for us.
Thank you for reading our blog, and for following GSI. We hope you like this article, feel free to share it.
[social_share/]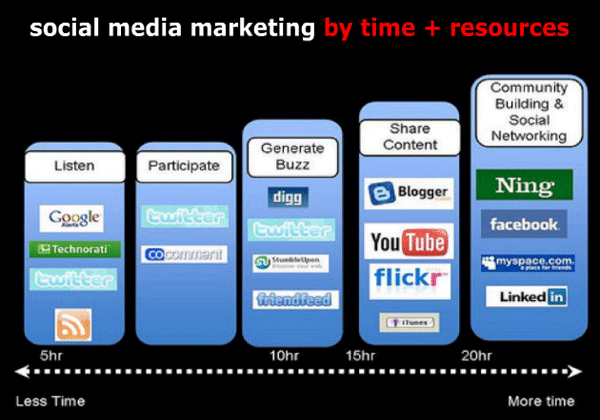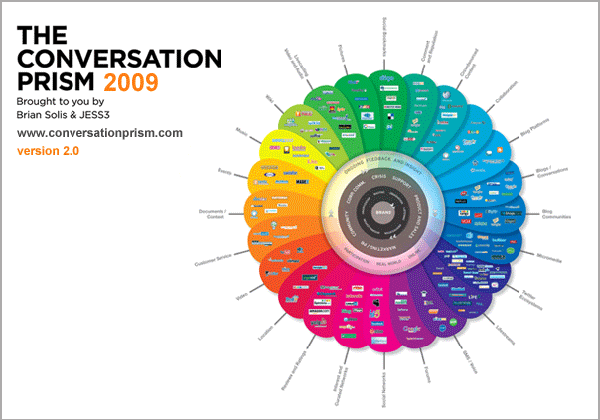 [ 2014 update ] A 4.0 version of The Conversation Wheel has been released by Brian Solis and J3SS3 in 2013, integrating the moltitude of changes, including in strategy and focus, in the social media marketing arena. More info at www.conversationprism.com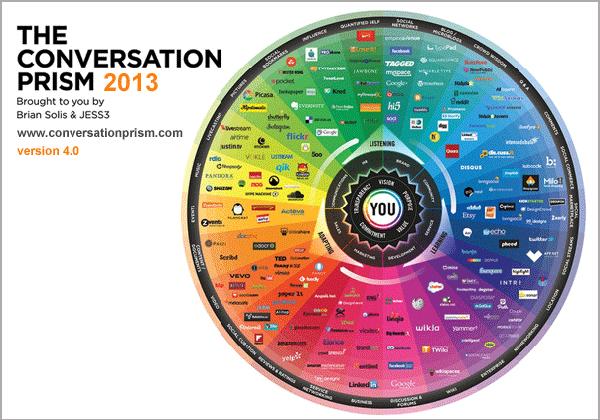 Create a valuable form of engagement for your target audience, and a content marketing strategy to support it. It is important to define, create and optimize content that can be most appealing to your target audience, and that can produce the highest grade of user feedback, interaction and engagement.

Create an editorial plan to make content production and distribution easier. You'll also need an engagement plan, that should take in consideration a lot of interaction on "other profiles" (users, pages, groups), instead of staying "bunkered on your own turf". This is paramount for a very effective engagement with your target audience. This is also the best moment for being creative – adopt a storytelling strategy and editorial approach to support your content strategy, one of the best forms of engagements known to mankind, and already a best practice in social media engagement.
6 – Define goals and KPIs for each social channel
Both your editorial and engagement plans should state specific goals, KPIs and social KPIs, defined by channel, and of course make them proportional to the effort that your social media marketing plan is dedicating to each channel.
7 – Launch all engagement initiatives for the target audience

Wow, we are finally ready to go and launch! We had to wait until point 7 of the decalogue, but the preliminary work and the organizational and procedural work of goal setting, analysis, optimization and planning will certainly show its results! Now define a plan of actions that is tied with your editorial plan, engagement plan and overall goals, and you are on your way to success!
8 – Integrate social media content across all your communication channels
Easy to say, not so easy when it comes to actually implement this point. Yes your teams all across your company had their social media training, and your company might have also rolled out a social media policy and a set of procedures, but – will your company react well to these changes? Sometimes it is difficult to change consolidated internal procedures (or just "habits"), but if you want your company communication to be consistent, effective and pervasive, you need to make sure to integrate your social media content across all your communication and media channels.
9 – Measure your results and re-evaluate your social KPIs. Integrate with Social CRM systems and methodologies.
All the above efforts are useless if there is not a strong focus on the analytics of your social media marketing efforts. Many companies are still stuck to the "basic" old-school metrics of "visitors" and "page views", which are useless in the social media arena. It's more effective a very receptive, active and influential a group of 1,000 power users than 1,000,000 fans who just pressed "like" to your Facebook page, but don't even bother to comment, share or interact with your content. It's more "social" a video (or other content) that has been shared 1,000 times than the same content being "liked" 2,000 times. Don't take these figures for granted, they are just ballparks out of my experience on clients' projects, but at the end it all depends on your KPIs and social KPIs. Assess the effectiveness of your plans, initiatives and resources towards such KPIs and take action – change plans or even KPIs or goals, if needed! If your company has a CRM system already in place, it could be a great idea to start integrating the social media marketing data in your CRM, making it evolving into a more dynamic and accurate Social CRM. Your CRM is a pachyderm with a closed environment that doesn't allow to integrate new modules? No problem, today Social CRM platforms are practically an off-the-shelf solution, with plenty of solid options to choose from.
10 – Keep testing new social media marketing channels and strategies
The social media landscape is constantly evolving, to a point that it is difficult to forecast what the scenario will be in one year or even more. After the first wave of blogs and wikis (1999-2003) came Linkedin (2004) and YouTube (2005), before Facebook exploded (2006), followed by Twitter (2007-2008). [Note: the dates refer to when the portals / services started being popular, and not to their actual launch]. Now we are in the full bloom of the geotargeted social networks, such as Foursquare, Gowalla and, again, Facebook Places, all in full mobile/smartphone integration, while our society is moving fast into the tablet and almost "wearable" computers and digital devices. New communities born from social apps keep popping up every day – think Instagram, the community based on the geolocalized exchange of pictures taken with the cool camera filters and features. Or the recently launched Google+ network, that we'll discuss soon at this blog. A company or brand on its way to a comprehensive and effective social media engagement should constantly be following at least the major trends and, if tested with a reasonable rate of success, keep investing on those new channels and technologies – while not forgetting to keep being active on the consolidated ones!
I hope this decalogue / recap will be of some help if you are figuring out which are the basic steps for engaging in social media marketing. Just be aware: the steps won't be so basic!
Too much stuff to remember to be a real decalogue? Here is the recap of the ten steps of the decalogue – pardon, 11 steps.
Enjoy and share!