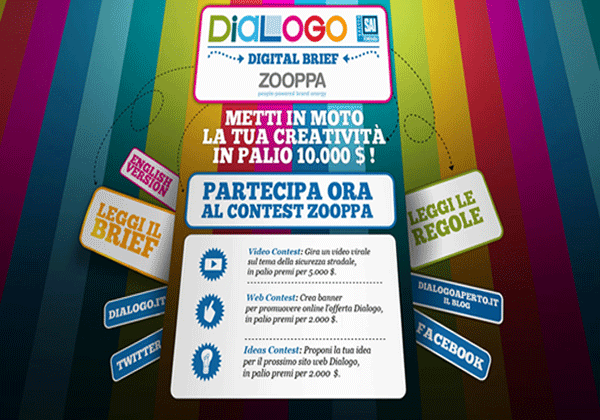 Dialogo Assicurazioni
Online car Insurance
Project:
One of the major clients of the early years of GSI's activity, our team fully dedicated to the client, supporting Dialogo's online marketing operations with many projects and sub-projects.
As a kick-off activity, GSI did a complete SEO assessment on the Dialogo website, providing a full set of recommendations to be implemented by the client's tech team. In parallel, we created a WordPress blog, and launched a complete content marketing campaign, publishing almost daily new optimized content from the blog, and kick-starting all the basic social media channels.
Of course in the process our team optimized everything (all content and media, pictures and videos), and even launched and run an user-generated content campaign, asking the creative community of Zooppa to create text, visual and video content on the topic of road safety. Still on the user engagement side, GSI also managed Dialogo's profile on Yahoo! Answer, providing a front end support to users asking questions on the topics of car insurance and road safety; we also created the first complete glossary of car insurances in Italian language, that was supposed to be published term by term on Wikipedia, as well as html interactive version on the Dialogo site, in order to provide more SEO boost – but the client decided not to implement this part of the work.
GSI also created for Dialogo a very pioneer tool for monitoring and taking action on all online buzz about the company, as a part of a full brand reputation management campaign. The range of services provided by GSI to Dialogo also included the management of pay-per-click ad campaigns, the creation of optimized landing pages, A/B testing of such landing pages, and regular SEO and web analytics reports.
Year: 2008-2010