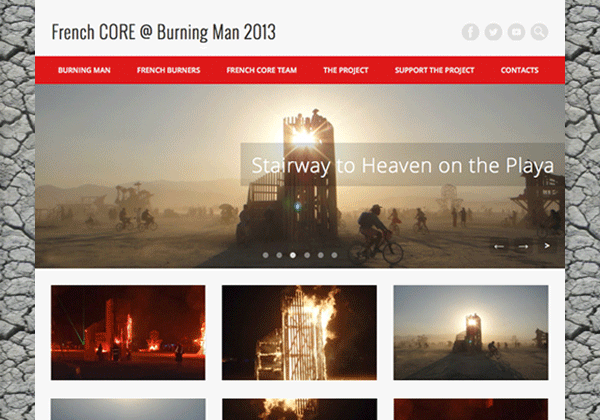 French CORE @ Burning Man: Stairway to Heaven
Collaborative Art Installation for Black Rock City
Project:
The CORE Project at Burning Man is a feast of large scale installations created by regional groups of burners, that get placed around The Man, the main playa installation, and go in flame simultaneously on the Thursday night of the Black Rock City event. (CORE = Circle Of Regional Effigies).
In 2013 we got directly involved with the French CORE project, brought to the playa by an "official" French burners team, that actually included many other European fellow burners. Beside of all the "practical" effort as part of the CORE Crew in planning the installation, building it, and finally burn it, we put a special effort in supporting the project communication, building a responsive website for the project, supporting all the social media initiatives and of course also the online crowdfunding efforts.
The website follows all the steps of the project with blog posts that feature plenty of pictures from the playa, and also a documentary that followed the project on the playa.
Year: 2013