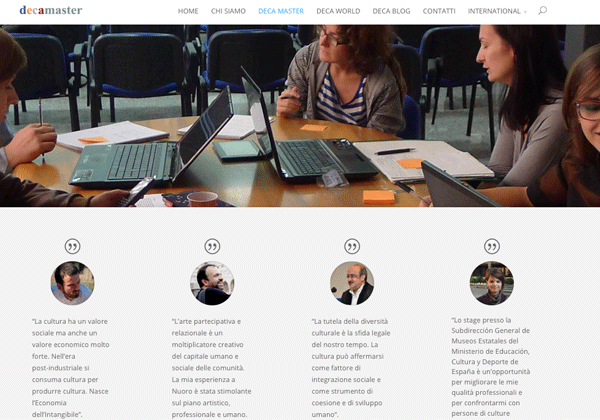 DECA Master
University Master for Culture and the Arts
Project:
DECA Master is the Post-Degree Master in Law and Economy for Culture and the Arts promoted in Nuoro (Sardinia) by the join effort of the universities of Sassari and Cagliari. We have been teaching internet marketing, search engine marketing and social media marketing, with a special focus on online fundraising for culture and the arts, since the kick-off of the Master back in 2012.
In summer 2014, during a long summer residency in Sardinia to complete the UniNuoro project, we decided to gift the Master with its own brand new responsive website, and with a blog. In the process, we optimized the site, plenty of multimedia content, and provided SEO copywriting to "populate" the blog before its launch. We also worked closely with the people responsible for web update, providing also them with a full training in web, search and social media marketing, and helping designing an editorial plan for the blog publishing activity.
For those interested, our blog features a full article with the details of the master class at the first edition of the DECA Master, Social Fundraising: How to Fund Culture and the Arts with Social Media, where you can find also all the slide decks used during the two days of master class, embedded from Slideshare.
Year: 2014